Hello everybody, Today I have a Chunky Crochet Scarf free pattern for you and for extra cosiness it has pockets too!!. It is really beginner friendly and you can do it in one evening while watching a nice movie. Yes believe me this is the magic of super bulky yarn and a 15 mm hook!
Before moving to the pattern I want to tell you more about the day I finished this scarf which was the 22nd of October. If you have been following me you probably know that am Egyptian so it was still hot and I had to put the AC on 16 celsius to take these photos and as I wished that the weather gets colder suddenly it became cloudy and rained like never before and it became much cooler. So I felt so lucky that my wish has been granted.
Its now the season of extra cosy stuff so click here and here for extra cosy patterns.
Pin it for later: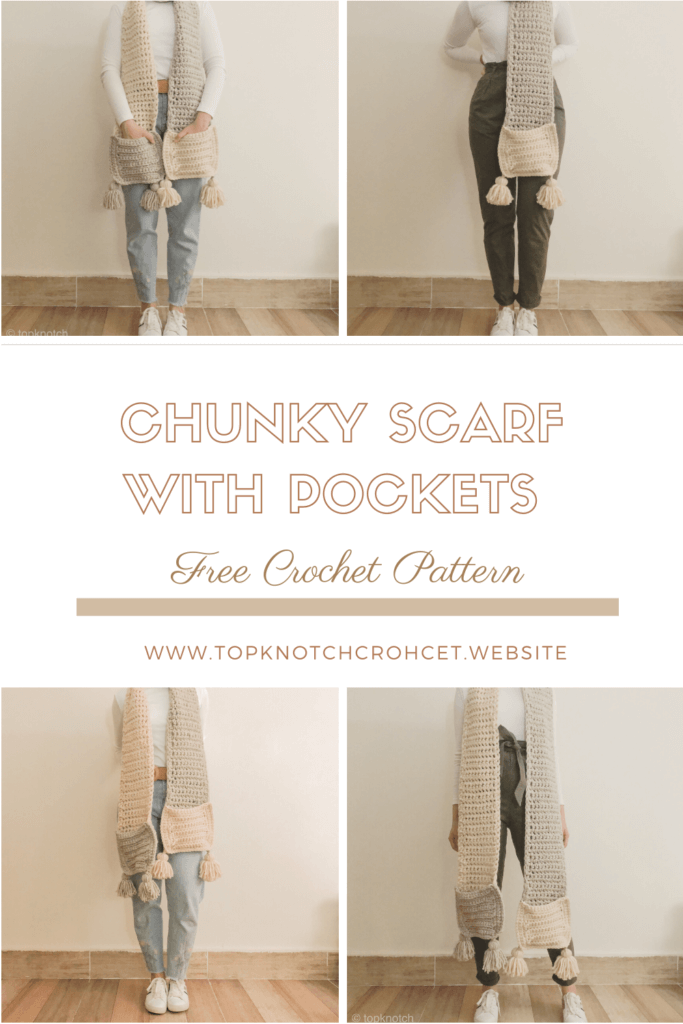 Now let's take you directly to the pattern
The materials you will need for this scarf are:
Disclaimer: This blog post may contain affiliate links. I may earn a small commission to fund my coffee drinking habit if you use these links to make a purchase. You will not be charged extra, and you'll keep me supplied in caffeine. It's a win for everyone, really.
Yarn:
Size
The gauge:
Scarf 10 cm square = 6 stitches * 6 Rows
Pockets 10 cm square = 8 stitches *7 Rows
Skill level: Beginner
Abbreviations and Glossary (US Terms):
ch – chain
sc – single crochet
ss- slip stitch
Notes:
The pattern is written in us terms
The scarf is made first then the pockets is made and joined to the scarf with a crochet edge seam
Chain one is not considered as the first stitch throughout this pattern
If you are a shorter person you can decrease the number of rows. So instead of working for each color for 100 cm. Make it and where between 90 and 80cm
Instructions:
With A 15 mm hook chain 11
Row 1. Work sc in each chain, chain one & turn
Row 2. sc in the very first stitch and all the remaining stitches, chain one & turn
Row 3. Repeat the previous row at the end of this row your last sc will be in the first sc of the previous row. Not the chain one space, chain one & turn
Row 4-62 (or till you reach 100 cm): Repeat row 3
Switch to the second color and continue for 62 more rounds (or till you reach 100 cm or your desired lenght)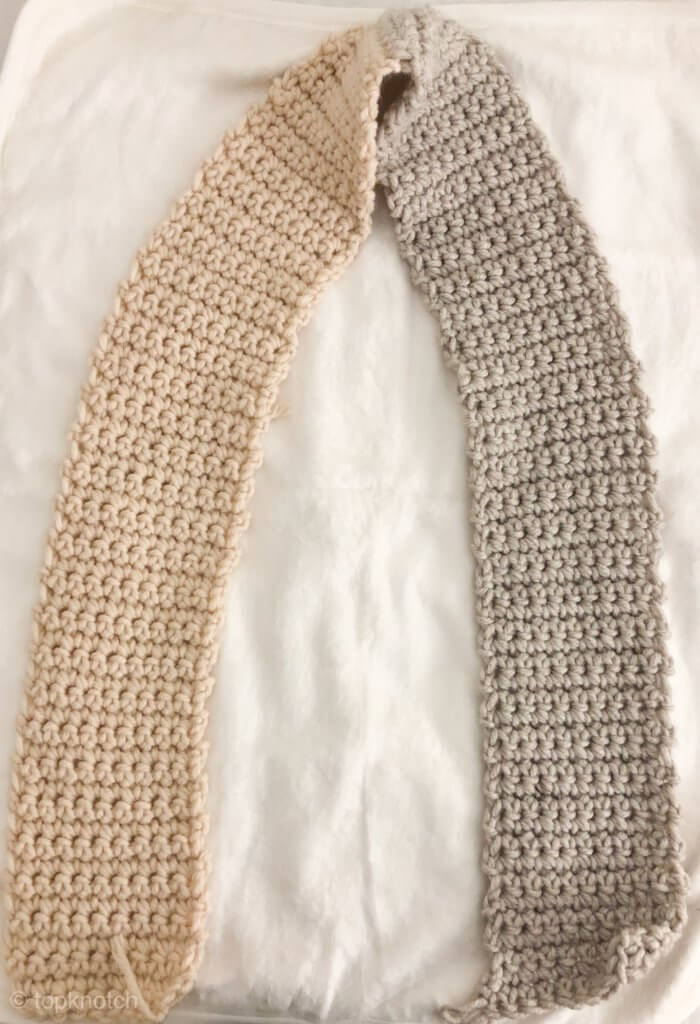 Now you are going to work one sc finishing row around the length of the scarf from both sides. So you are going to work one sc in each row and make sure to match the color of the finishing row to the body of the scarf.
Pockets
To create those beautiful lines we are going to work in back loops only for one row and in the front loops only for the next row
With an 8 mm hook chain 13
Row 1. Work sc in each chain, chain one & turn (13)
Row 2. sc in the back loops only, chain one & turn (13)
Row 3. sc in the front loops only, chain one & turn (13)
Repeat Row 2-3 four more times for total 11 rows.
Finish the pockets like we did with the scarf but this time we are going to make two rows from each side:
Row 1: One sc in each row
Row 2: One sc in each sc from the previous row
Repeat on the other side
Then repeat the whole process one more time for the other pocket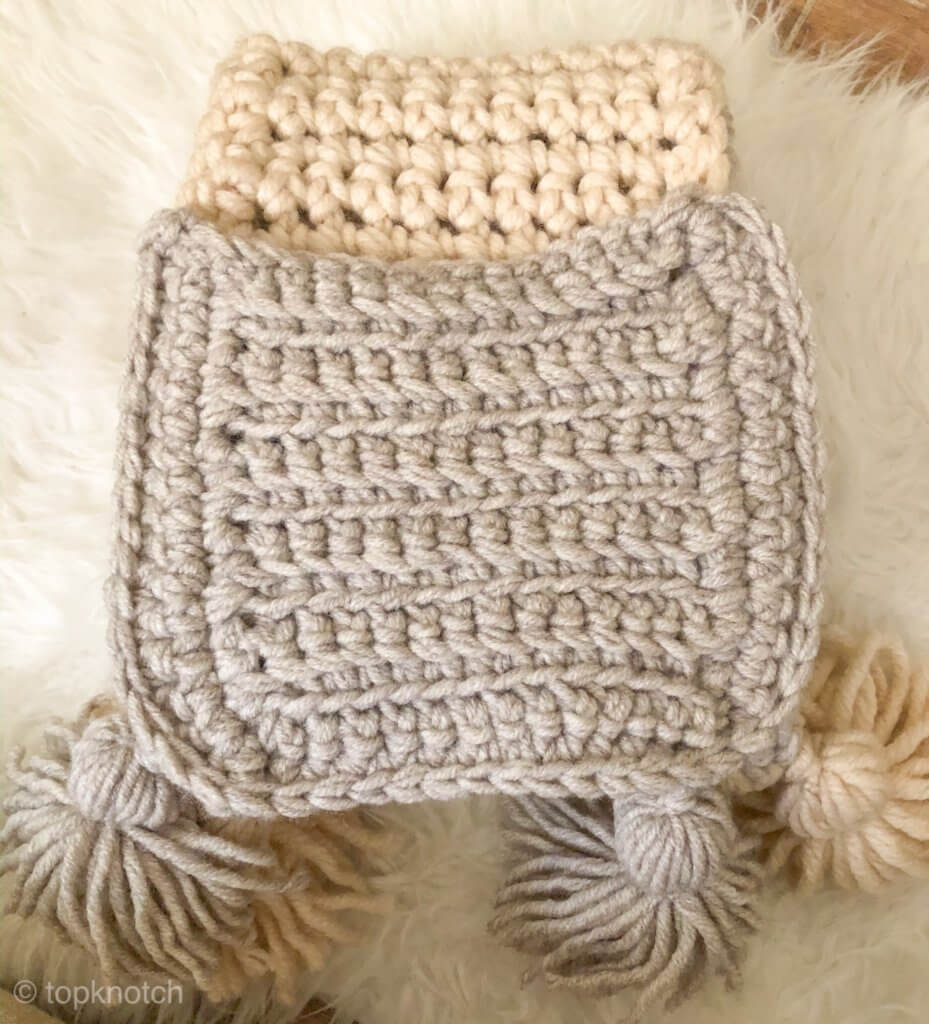 Attaching the pockets to the scarf
Make sure to place the honey pocket on top the beige side and vice versa. And to place it so that the side with those beautiful lines is facing you.
Then to attach them you are going to join them with a crochet hook from the sides and the bottom with the technique used in this video.
Repeat with the other pocket
Tassels
And finally to make the tassels I used this tutorial
To attach it to the scarf you are just going to leave a long tail at the top of the tassel tie it tightly to the bottom corners of the pockets/scarf and weave in ends.
Here is another video tutorial for how to make tassels and attach them
I hope you liked this pattern. If you made one, share it with me on Instagram. I would love to see how you adapted it and what variations you made 🙂
Take care and happy crocheting.