Hi everyone, Welcome to my blog, this is my first blog post with the first crochet dress pattern I designed.
I hope who ever stops by to read my blog will find something interesting and useful. I plan to share lots of patterns of my own design.
This pattern is too special too my heart since its my first pattern to design from scratch. I have been crocheting on and off since I was 10 years old but I always followed patterns on the internet.
But one day I had something in my mind that I couldn't find a pattern for. So I decided to design my own pattern that turned out to be this cute little dress.
I was very happy with the result. I gained the confidence to design more patterns. Eventually it gave me enough courage to start my own blog. I felt I really want to share my ideas and creations. I have to mention that the beautiful crochet online community encouraged me too.

Now lets talk a little bit about the dress pattern
This dress can be a perfect and very unique babyshower gift it can be very cute for a baby girl photo session too.
I love this dress since its cotton acrylic blend yarn make it work for warm weather in spring and summer alone. Or with a thin cotton undershirt underneath it. It can work in colder weather with a pantyhose and a long sleeve onesie.
I love to work with cotton acrylic blend especially for baby garments. It is soft on babies skin and have enough elasticity.
This pattern have two versions one with a full circle skirt. One with a half circle skirt for a less dramatic look.
PIN this pattern to your Pinterest boards for later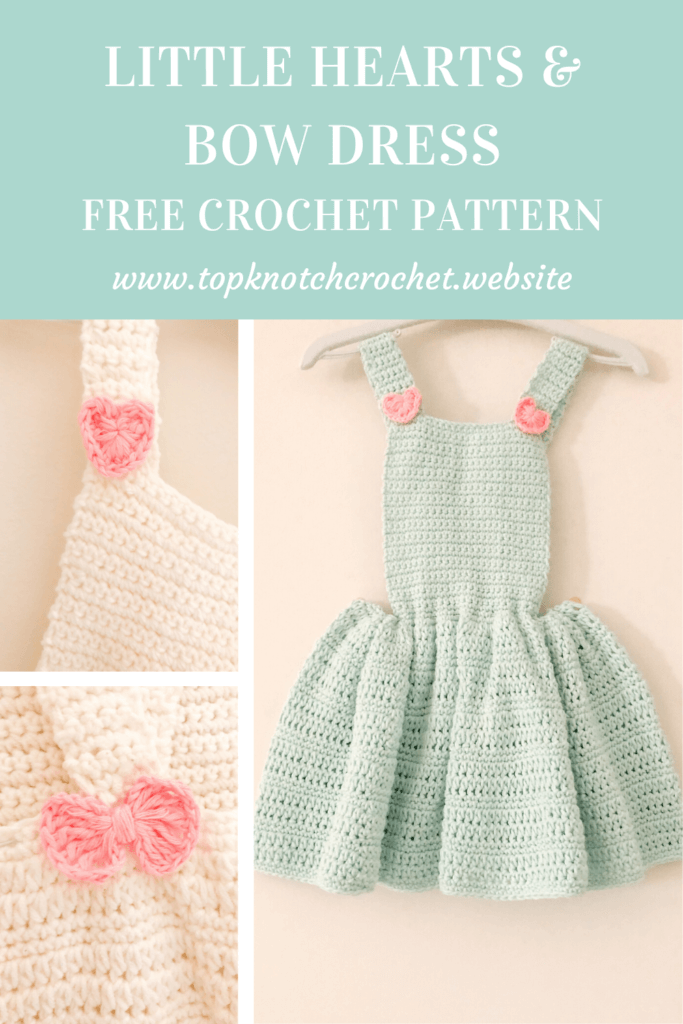 The material you will need for this dress pattern are:
Disclaimer: This blog post may contain affiliate links. I may earn a small commission to fund my coffee drinking habit if you use these links to make a purchase. You will not be charged extra, and you'll keep me supplied in caffeine. It's a win for everyone, really.
Sizes:
This pattern is written for size 0-3 month and changes for 3-6 months , 6-12, 12-18, 18-24 months are in parentheses.
Guage:
10 cm square= 22sc and 21 rows. (I did this pattern with measurements so that you can do it with whatever yarn you want and get the right size. Yet, I included gauge if you want to achieve the exact same look)
Skill level: Beginner
Abbreviations and Glossary (US Terms):
ch – chain
sc – single crochet
hdc – half double crochet
dc – double crochet
tr – triple crochet
Notes:
The pattern is written with us terms.
The dress is worked from top to bottom. The shoulder straps are worked separately and attached to the back center of the dress and to each side of the top.
Finally the bow and the two hearts are worked and sewed to the dress.
Chain one is NOT considered as the first stitch throughout this pattern
Pattern Instructions:
Top:
With a 3mm hook, chain as many chains to reach 12.5 cm(13.5,15,16,17), plus 1 chain.
Row 2: Work SC in each chain.
Row 3:(Chain one is not considered as the first stitch throughout this pattern). SC in the very first stitch and all the remaining stitches
Row 4: Chain one and repeat the previous row at the end of this row your last SC will be in the first SC of the previous row. Not the chain one space. (If You don't get the previous row. Check this tutorial to get straight edges by the amazing Sewrella)
Repeat row 4 till you have a 12.5 cm(13.5,15,16,17) square.
Skirt (two options one full circle and half circle)
With the same size hook chain as many chains to reach 38 cm (40,42,44,46) join to the other end of the square with a slip stitch. Be careful do not twist the chain
Round 1: Work SC in each SC from the square top and in each chain space
The next round is the only difference between the full circle skirt and the half circle skirt.
Note that the one in the photo tutorial is the half circle version. While the one in mint at the very top of the page is the full circle one.
For the full circle version of the crochet dress pattern
Round 2 : 2 SC in each stitch
For the half circle version the crochet dress pattern
Round 2: *2 SC in one stitch 1 SC in the next stitch* repeat ** till the end of the round
Change to hook 4mm
Round 3 and 4: HDC in each stitch in the round
Round 5 and 6: SC in each stitch in the round
Repeat rows 3-6 as many times till the skirt reaches 16.5 cm(16.5,18.5,20,22.5) or your desired length.
Shoulder Straps
Chain a 2.5 cm chain plus one
SC in each stitch back and forth to have a 22 cm(25,27,29,30) strap. Don't chain at the start of every row just work SC dircetly in the very first stitch of each row .
Mini heart instructions (make 2)
Make a magic cirlcle
Chain 3, 2 TC, 4 DC, CH 1, 1 TC, CH 1, 4 DC, 3 TC, Slip stitch into the magic circle, Pull the yarn until it is almost closed
Mini bow instructions:
Make a magic circle
Chain 6 then do 6 TC. Then chain 6, slip stitch in the magic circle. Again chain 6, 6 TC. finally chain 6, Slip stitch to the magic circle pull the loose strand.
Cut yarn leaving a tail at least a few inches long. To create the center of the bow wrap the two ends under and then back over the bow a few times.
Assembly instructions:
Sew one end from each strap together.
Then sew it to the center of the back of the skirt. Then sew the bow over it.
sew each of the loose end of the strap to the side of your square top. then sew one heart on each side.
Insert an elastics thread at the waist. I used a yarn needle to do this.
I hope you liked this pattern. If you made one, share it with me on Instagram. I would love to see how you adapted it and what variations you made 🙂