Hello everyone, Today I have a new pattern for you. Again with velvet yarn. But this time it's not a wearable pattern. Its a crochet pillow case. If you didn't see the previous two patterns with velvet yarn you can check them out here (Cozy Velvet Socks) and here (Oversized Velvet Cardigan).
To add some positive vibes to this crochet pillow case pattern, I wanted to add a word and I couldn't find better than the word "hope". I feel that this word have a very positive effect on my mood. When I think of its meaning it gives me the energy to keep going and keep trying no matter how am feeling.
This pattern is beginner friendly, the whole pillow is done with one rectangle. Then the letters are crocheted separately and sewed to the pillow case. Don't get intimidated by the letters the steps are really simple and easy.
Now lets talk a little bit about the pattern
The material you will need for this pattern are:
Disclaimer: This blog post may contain affiliate links. I may earn a small commission to fund my coffee drinking habit if you use these links to make a purchase. You will not be charged extra, and you'll keep me supplied in caffeine. It's a win for everyone, really.
Super bulky (6) velvet yarn. I used Himalaya Dolphin Baby. 2 Balls For the main coloring my case it was White. Another skein of the secondary color in my case it was Light gray.
For the letters you will need 1 Ball of Alize Cotton gold 55% cotton 50% acrylic. Or any sport weight cotton acrylic blend yarn.
Hook: 6 mm, 3.5 mm
Stitch markers, yarn needle to weave in ends.
Measurements:
40 cm (15.8 inches) x 40 cm (15.8 inches)
Skill level: Beginner
Abbreviations and Glossary (US Terms):
ch – chain
sc – single crochet
ss – slip stitch.
Notes:
This pattern is written in us terms
The pillow case you see in the picture is for a square 40*40 cm
pillow. However you can do it for any other size if you wish.
Chain one is not considered as a stitch through out this patern
Pin it for later: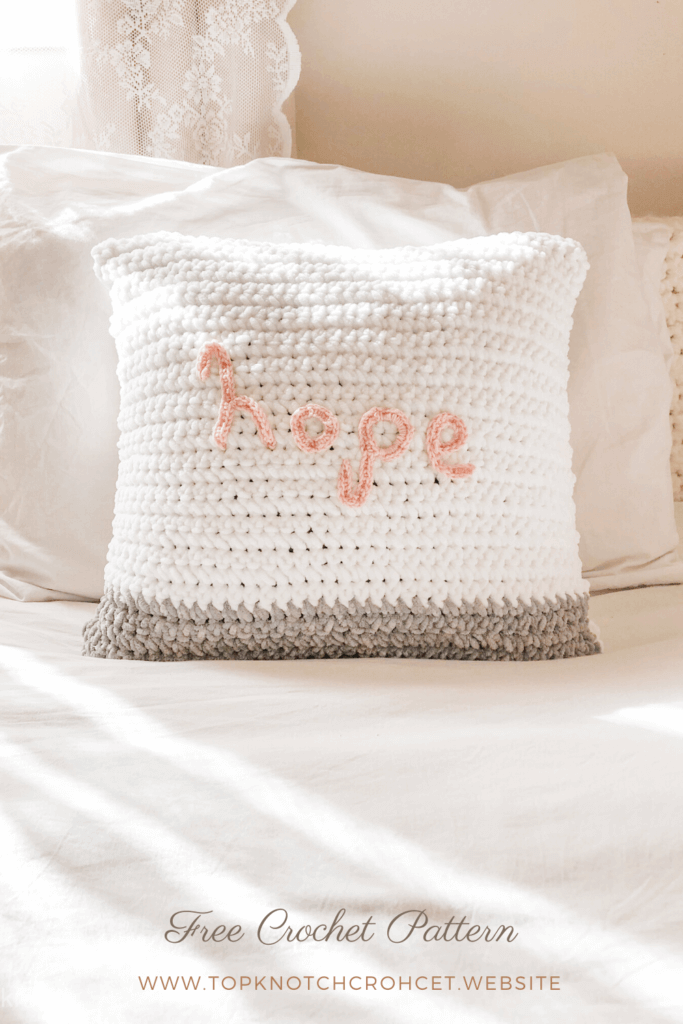 Pattern Instructions:
Start by measuring the pillow you have. We will start working with a chain of the same width of the pillow. then we will work with sc rows back and forth till we reach double the length of the pillow plus 4 cm in my case this was 84.
With the 6.0 mm hook, chain a chain with the same width as you pillow case plus 2 centimeters. In my case it was 42 cm.
Row 1. Work SC in each chain.
Row 3. Chain one (Chain one is not considered as the first stitch throughout this pattern). SC in the very first stitch and all the remaining stitches
Row 4. Chain one and repeat the previous row at the end of this row your last SC will be in the first SC of the previous row. Not the chain one space.
If You don't get the previous row. Check this tutorial to get straight edges by the amazing Sewrella.
We will Repeat row 5 till you reach the desired length. If you want to add another color like I did in mine. When you have only 10 cm left cut the white yarn and weave in ends.
Attach the secondary color and work with the same SC rows for 10 more cm.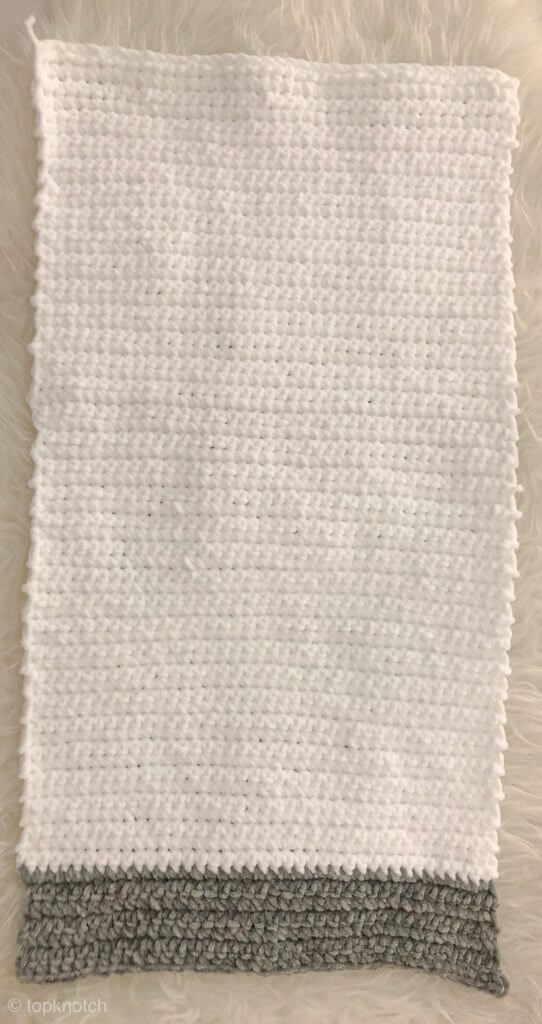 If you can't figure out the measurements. An easy way to do it is to try it on your pillow every now and then to know how many rows you should add.
Letters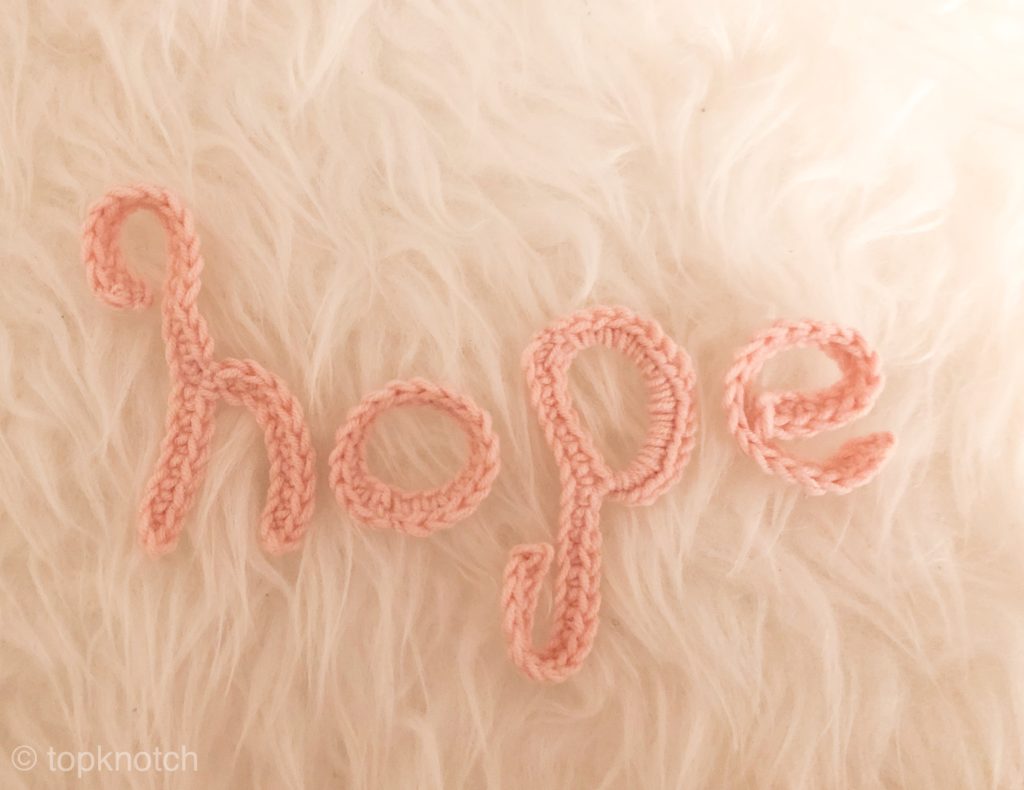 After finishing the rectangle its time now to work on the letters: We will work the letters with a 3.5 mm hook
letter h: Chain 26, SC in each chain space. cut yarn and weave in ends. now skip the 7 stitches from one of the sides and attach yarn to the 8th sc. Chain 10, turn and sc in each chain. slip stitch in the same sticth you have previously attached the yarn too.
letter o: Chain 26 chains, slip stitch in the first chain (be carfull not to twist the chain). Now you are going to Sc in each chain. and again slip stitch to the first sc. Cut yarn and weave in ends.
letter p: Chain 26, SC in each chain space. After this you are going to chain 8, skip the next 7 stitch and slip stitch to the next one. turn your work and work 20 sc in the chain 8 space you have.
letter e: This is as extremely easy one. You are going to chain 26 chains, then you are going to Sc in each chain. cut yarn and weave in ends. when we are sewing we will shape this strand as an e.
Position your letters on the pillow like shown in the picture. and sew them. with yarn needle and matching yarn or thread.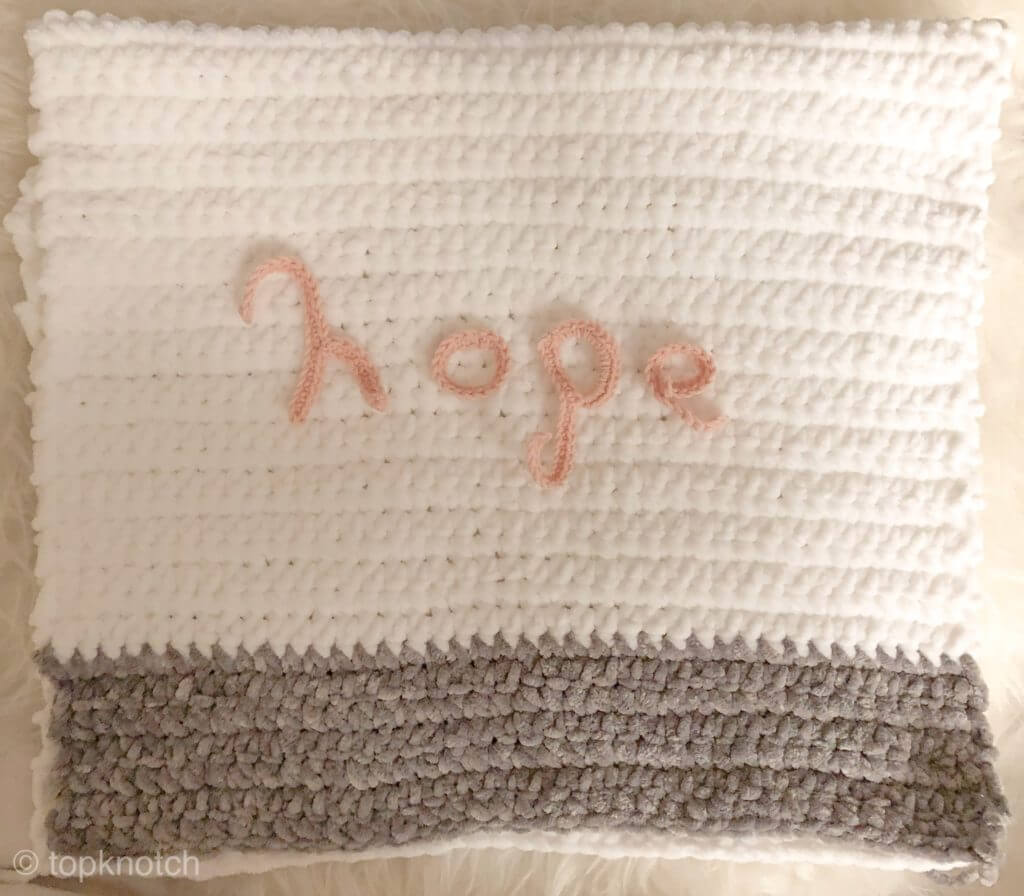 After sewing your letters to your rectangle. Fold it in half as shown in the picture above and sew it from the sides.
Now insert you pillow in the case. Get a yarn needle and matching yarn and start to sew the bottom edges together as you see in the pictures.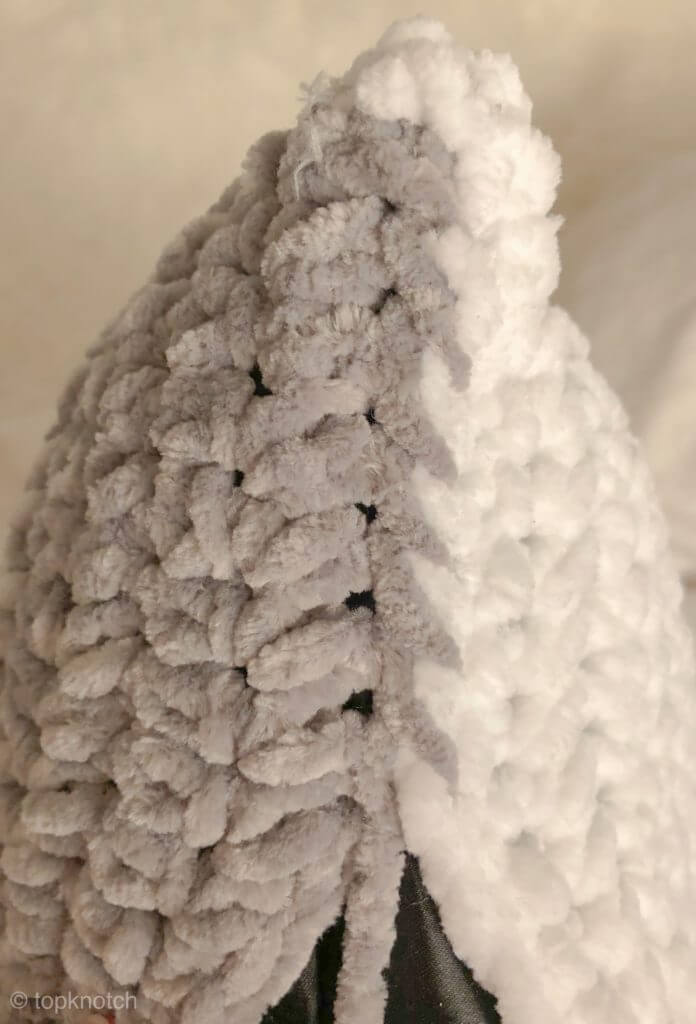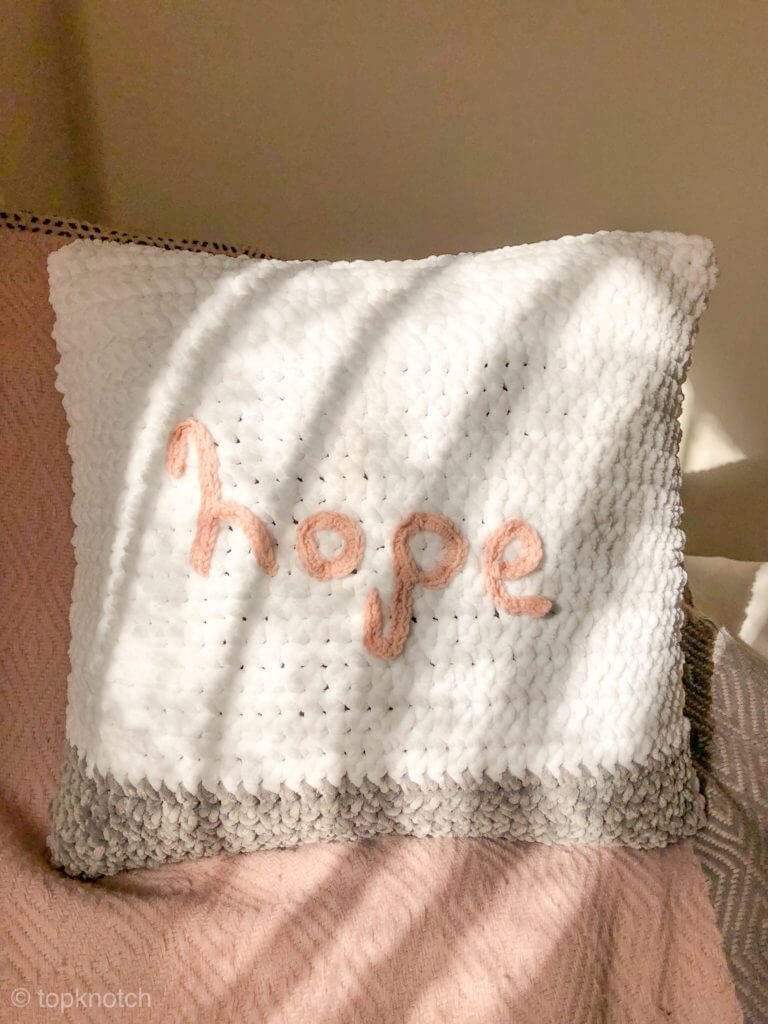 I hope you liked this pattern. If you made one, share it with me on Instagram. I would love to see how you adapted it and what variations you made 🙂