Hello everybody, Today I have a new free pattern that is really dear to my heart. I made this crochet ruana upon a request from my Mum. And I loved working on it from the very beginning till I finished it. I always feel a special feeling when it comes to making things for my loved ones specially if its my MUM!!.
The ruana is really cosy, soft and fluffy. After trying it on different outfits for taking some pictures for you I fell in love with it so am planning to make one for myself too.
See the different outfits down and tell me in the comments section below how do you prefer it I honestly prefer the causal look with jeans and sneakers coz am all about comfort nowadays.
And since now is the season of extra cosy stuff click here , here, here & here for extra cosy patterns.
OR Click here to see more patterns with velvet yarn

Pin it for later: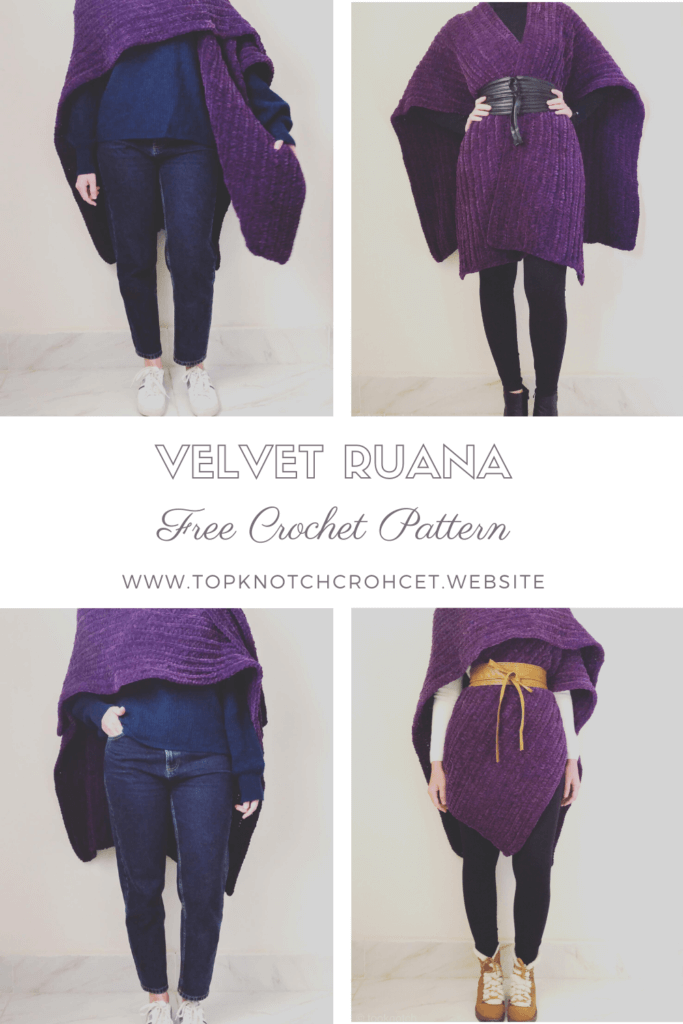 Now let's take you directly to the pattern
The materials you will need for this crochet ruana are:
Disclaimer: This blog post may contain affiliate links. I may earn a small commission to fund my coffee drinking habit if you use these links to make a purchase. You will not be charged extra, and you'll keep me supplied in caffeine. It's a win for everyone, really.
Sizing:
Finished Size:
Approximately 100 cm wide and 85 cm long – One Size
Please measure yourself to ensure that this size will work for you before beginning. I generally tend to like things oversized so you might want to work with smaller measurements. If you wish, you can easily adjust the length by adding or removing from the starting chain. Or the width by adding or removing rows.
If you intend to add length please purchase more yarn than is called for in the pattern. and keep in mind that Due to the weight of this garment, it may grow little bit in length.
Finally It's a good idea to measure as you work the pattern to ensure the size is turning out correctly.
Gauge:
10 cm square = 9 stitches & 6 rows
Abbreviations and Glossary (US Terms):
Notes:
The pattern is written with us terms.
The ruana is made of two panels that are joined at the center.
Instructions:
With A 6 mm hook chain 157
Row 1. Work sc in each chain, chain one & turn
ROW 2: hdc Blo in each stitch across the row.
ROW 3: HDC-SLST-BLO (half double crochet slip stitch back loop only) in each stitch across the row. Chain 1 and turn.
ROW 4: hdc Blo in each stitch across the row.
Row 5 – 30: Repeat row 3-4
Repeat the pattern above to make second rectangular panel. (Remember that you can add more rows to make the ruana wider )
Finishing and Assembly instructions:
Work one more finishing row of sc around the short edges (top and bottom) of both rectangles.
Place both rectangular pieces with the original chain stitches at the center. Ensure that matching sides are facing upward. You may make whichever side that you like the right side of the ruana. But make sure that for now the sides that are facing upward are the wrong sides.
With your crochet hook you are going to Join the two pieces with a sc as shown in this video until you reach either till the center of the two pieces if you like a high low look where the ruana's back is longer than its front. Or if you want even sides you will need to sew till you are 10-12 cm away from the center.
Tie off and weave in ends.
I hope you liked this pattern. If you made one, share it with me on Instagram. I would love to see how you adapted it and what variations you made 🙂
Take care and happy crocheting.