Hello Everybody, Today I Have a free crochet dress pattern for you. If you read my previous posts you will definitely know that one of my favorite things to crochet is baby garments.
You can see my previous baby dress patterns HERE, HERE, and HERE
I made this dress a while ago. but I wanted to modify it little bit. That's why it took me a little bit of time to release this pattern. But am really loving the results. Also I think this dress would look really nice on an adult too! What do you think?
Pin it fo later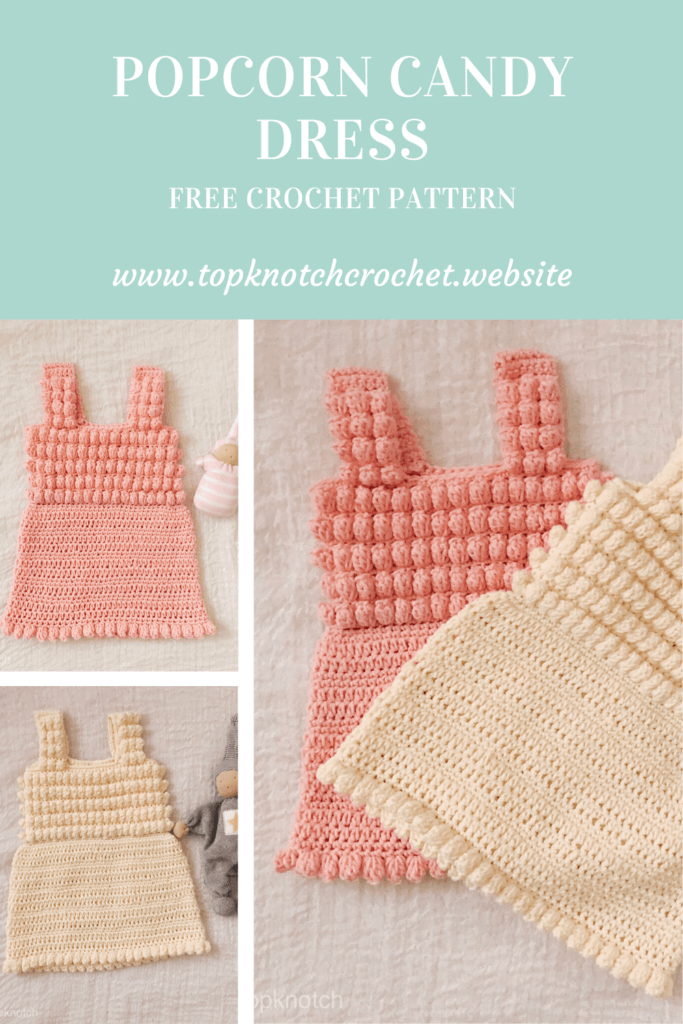 Now lets move directly to the pattern
The material you will need for this dress pattern are:
Disclaimer: This blog post may contain affiliate links. I may earn a small commission to fund my coffee drinking habit if you use these links to make a purchase. You will not be charged extra, and you'll keep me supplied in caffeine. It's a win for everyone, really.
Sizes:
This pattern is written for size 0-3 month and changes for 3-6 months , 6-12, 12-18, 18-24 months are in parentheses.
Gauge:
Upper part 10 cm square= 17 total stitches (alternating between a sc stitch and a popcorn stitch) and 14 rows.
Lower part: 10 cm square= 17 stitches and 13 rows alternating between two sc and two hdc.
I did this pattern with measurements so that you can do it with whatever yarn you want and get the right size.Yet, I included gauge if you want to achieve the exact same look and texture.
Skill level: Beginner
Abbreviations and Glossary (US Terms):
ch – chain
sc – single crochet
ss – slip stitch
hdc- half double crochet
popcorn stitch
Special Stitches:
Pop corn stitch
Work 5 double crochet (dc) stitches in the same stitch.
Drop the loop from your hook.
Insert your hook from front to back under the top 2 loops of the first double crochet of the group.
Grab the dropped loop with your hook and pull it through the stitch.
Here is a video tutorial for the pop corn stitch
Notes:
The pattern is written with us terms.
The dress is worked from top to bottom. Then we attach the yarn again to the top to work the shoulder straps
We will be mostly working in rounds with no slip stitches so you should put a stitch marker at the last stitch of each round. So that you can keep track of the first stitch in each round.
Pattern Instructions:
Chain a 42 cm (44,47,50,53) chain, join to the first stitch (make sure not to twist the chain)
Round 1. sc in each chain around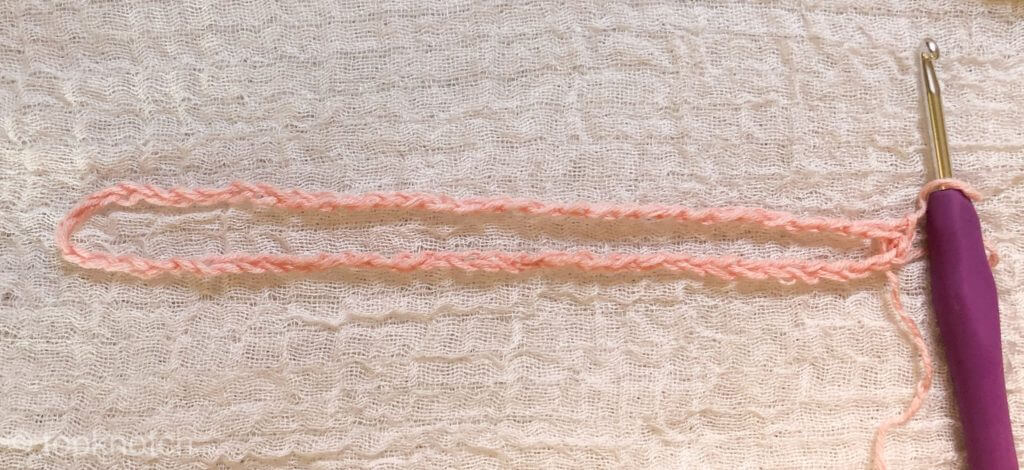 Put a stitch marker (as you see down in the picture) at the first stitch in the round and the one opposite to it on the other side (this will mark the front of the dress)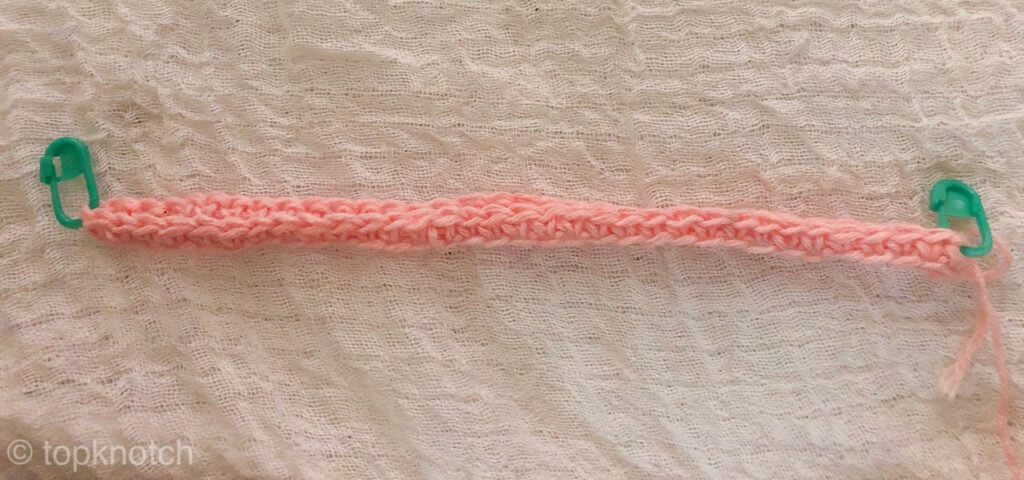 Round 2. From the stitch marker on the right to the one on the left we will work one sc stitch and one popcorn stitch.
When you reach the second stitch marker work your last sc and put it again and continue with HDC till you finish the round.
Round 3. work on sc on top of each stitch ( sc, popcorn stitch, and hdc) from the previous round.
Round 4. work one sc in each stitch from the previous round.
Repeat Round 2-4 till you reach 8 cm (9,10,11,12)
Here is how it looks from the front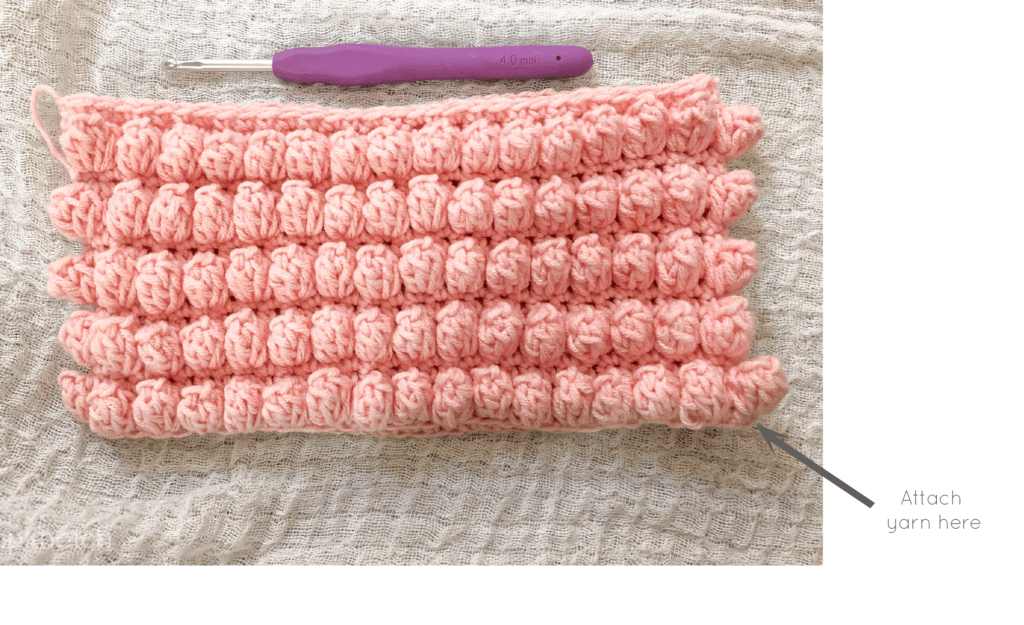 And here is how it looks like from the back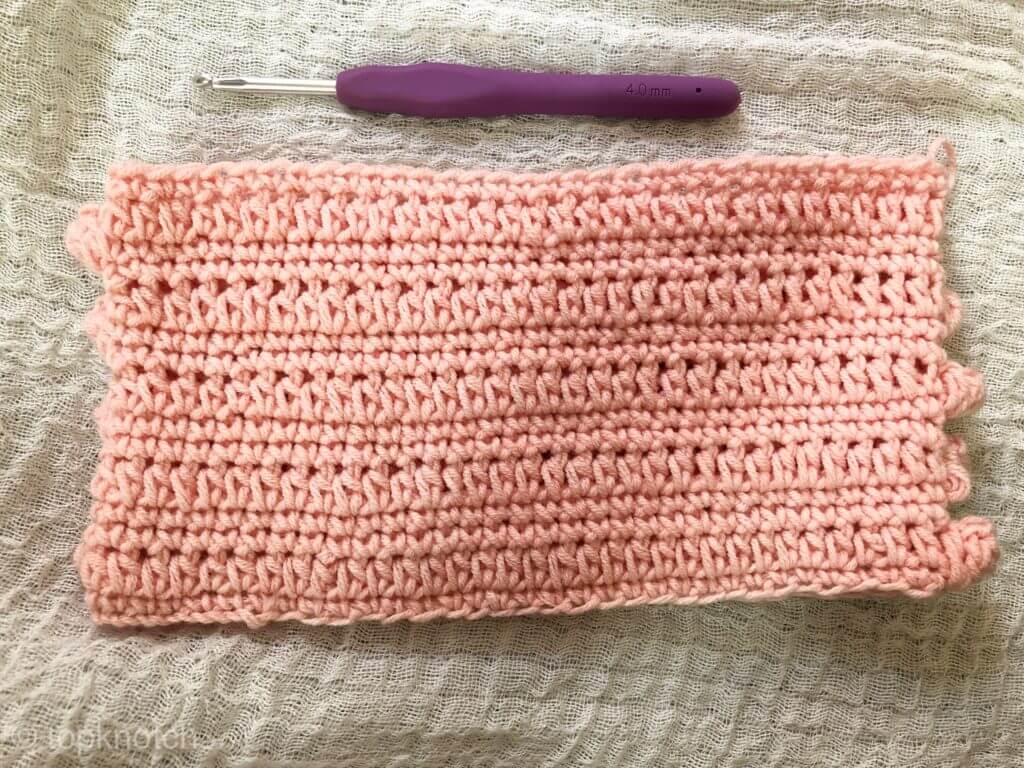 lower/skirt part
After attaching yarn as shown in the above picture, put a stitch marker to your first stitch and the one opposite to it like you did at the very beginning,
Round1. 2 sc in the first stitch, and the two after it, then sc in all the next stitches till you reach the two stitches before the marked stitch, do 2 sc in the next 5 stitches (the marked one the two before it and the two after it) continue with 1 sc in each stitch, till you reach the last two stitches do 2sc in each one of them.
Round 2. 1 sc in each stitch around.
Round 3-4. 1 hdc in each stitch around.
Round 5-6. 1 sc in each stitch around.
Repeat rounds 3-6 till the lower part of the dress reaches (starting from below the popcorn part) 16 cm (16,17,18.5,20) or your desired length.
Finally Round. *one sc and, one popcorn stitch* Repeat from * to * till the end of the round.
Cut yarn and weave in ends.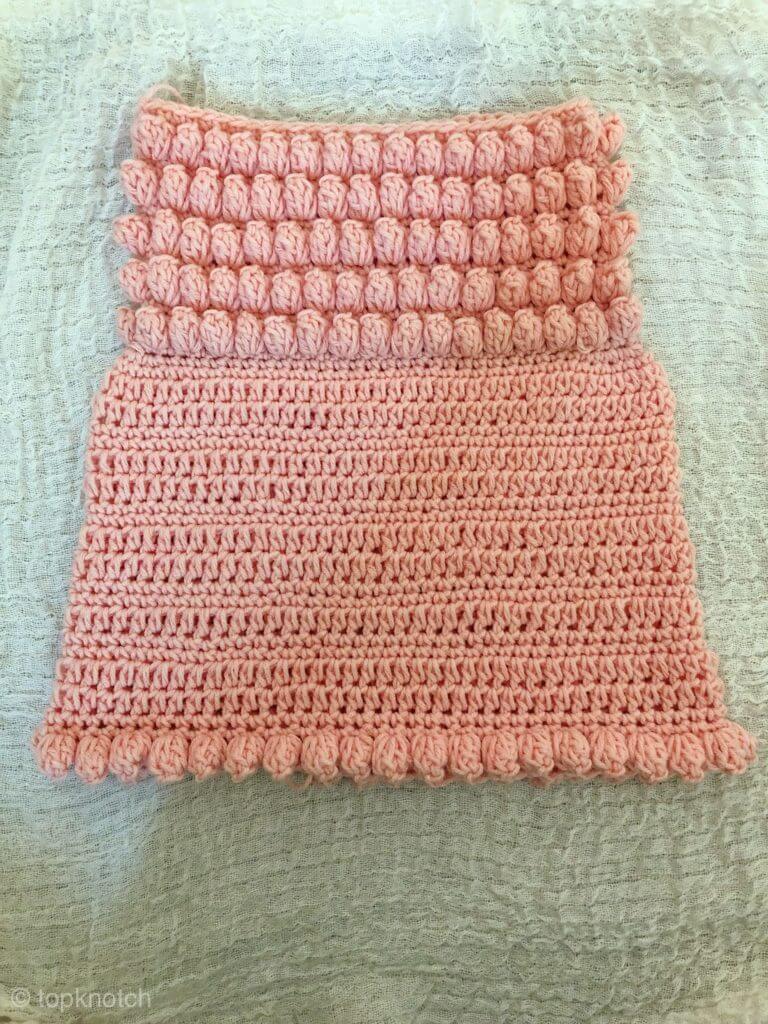 Now to work the shoulder straps.
Put the stitch markers as you see in the picture bellow.
You will leave 2 cm (2,3,3,4) from each outer side. and leave 7 stitches between the stitch markers so that you work 1 sc and one popcorn 3 times and end with a sc.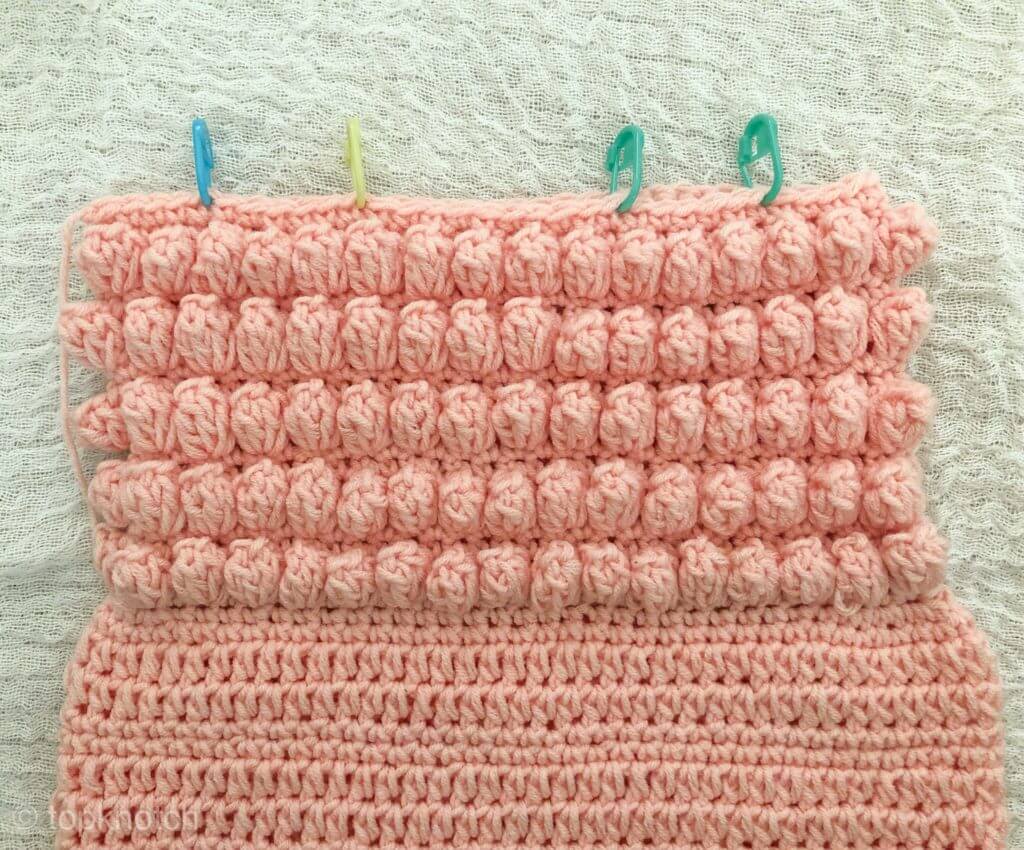 Row 1. Attaching the yarn to the right stitch marker, on the right side, work (one sc and one popcorn stitch) repeat 3x and end with a one sc
Row 2. one sc in each stitch from the previous round
Repeat row 1-2 three (3,4,4,5) more times
Then continue working back and forth with sc rows till your shoulder strap total length is 17cm (18, 20, 22,24).
Repeat on the left side. remember to attach to the right stitch marker and work your way to the left.
Finally sew the loose end of the shoulder strap to the back of the dress.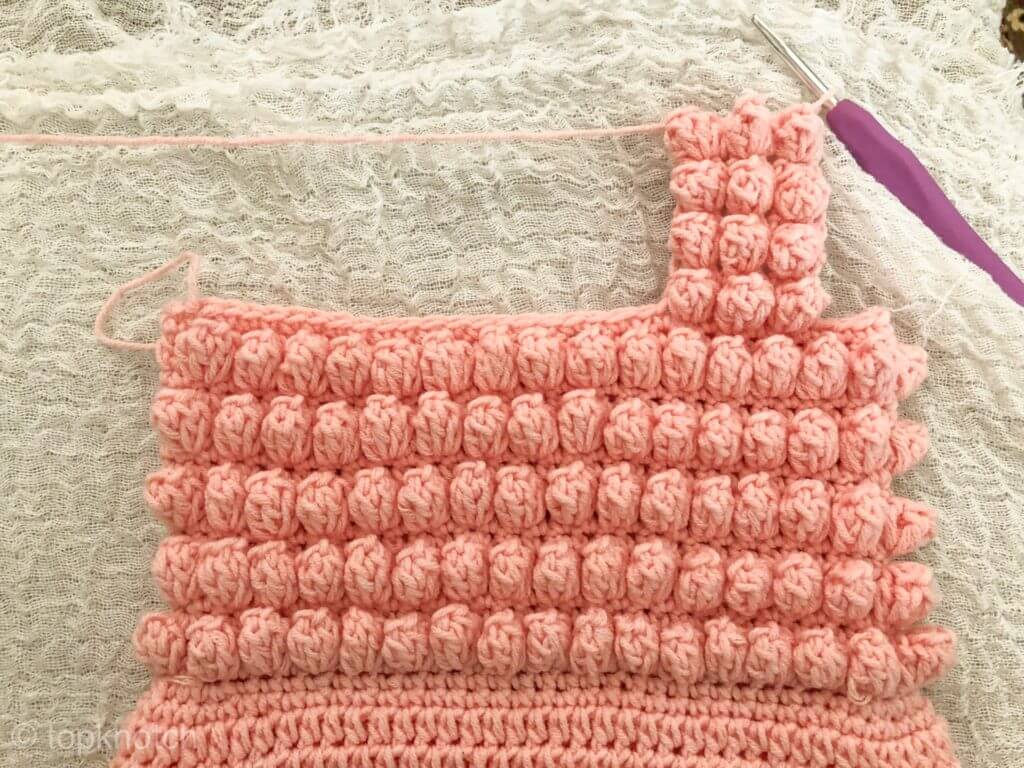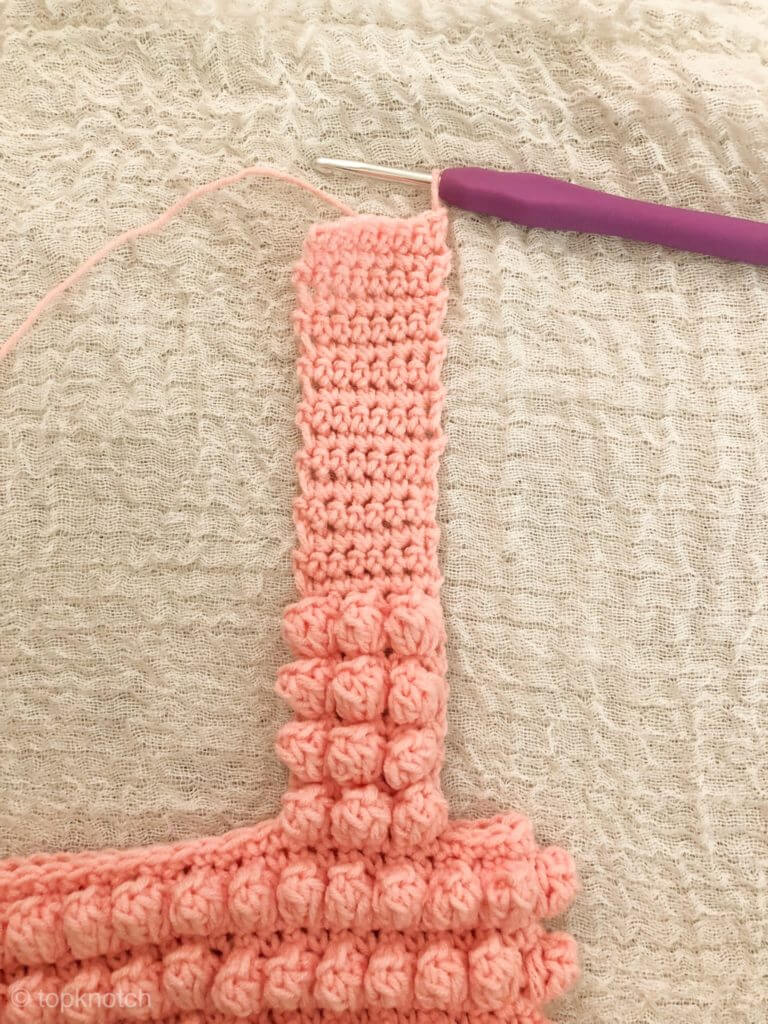 I hope you liked this pattern. If you made one, share it with me on Instagram. I would love to see how you adapted it and what variations you made 🙂
Take care and happy crocheting.