Hey guys today I don't have a crochet pattern for you. But I have something that is as good as a new free crochet pattern in my opinion! let me know if you too think so!
I made a vision board for 2020 in December 2019. And we are in February 2020 and I already can see its positive impact on my life. So I thought to share it with you. Who knows I may inspire you to make something like it. That would positively impact your life and this will make me extremely happy!!
Now lets talk a little bit about the vision board!
Basically a vision board is any sort of board on which you display images that represent whatever you want to be, do or have in your life.
How this will affect you?
With all of our daily tasks and commitments we often get distracted of what truly matters to us. And we may even forget where we want to be heading or what we want to achieve. And here comes the vision board to help keep your attention on your intentions!!
Aside form the fact that our brains tend to remember what we see most often. In my opinion the most effective part of the vision board is the process of making it! because we all think about the things we want a lot. But we usually don't document them anywhere outside our heads!
So preparing a vision board will force you to go beyond casual thinking. And it will help you focus and sort your ambitions, goals and aspirations out!
But keep in mind that a vision board will only work if you engaged with it. And used it to guide your actions as you progress toward making your goals a reality.
Finally be flexible and if you found that something is not making you happy or not working with you anymore just ditch it.
You now understand the benefits and want to make one. But You feel lost and you don't know what to include in your vision board?
First of all don't think of a vision board as only a board to visualize materialistic goals. think of it as a daily inspiration that help you focus on things that truly matters to you. So it's not only about a car or a house you want to own, or a certain income to earn. Which is totally okay to include if you want. But for me its more about a lifestyle I want to create and embrace.
Gathering Ideas
Get a paper and a pen and take time to sit down and reflect on your current life. What are the bad habits you want to cut? the good habits you want to keep and/or develop. What makes you happy! which mantras you wanna live by! what are you currently struggling with! and what you can do about it to stop the struggle!
For me after some deep thinking and reflection I decided to categorize my vision board into the following categories:
Religious and spiritual
Healthy lifestyle
Career (I divided it into two parts pilates related and blogging related)
Motivation quotes and Mantras
Things that makes me happy
I even included some pictures of interior designs to inspire me while doing my room makeover. And other pictures for a clothing style that I want to achieve.
You can add or remove categories as you wish am just giving you ideas!
Now is time to gather pictures:
After you categorized and sorted out your goals and aspirations. You can just use Pinterest to find awesome motivational pictures that relates to you.
I suggest that you create a Pinterest board specifically for your vision board. Pin whatever you like. then choose the most relevant pictures for your vision board.
And if you like any of the pictures in my vision board. You will find them all here on this Pinterest board! you may find relevant photos and other ones may be totally irrelevant to you.
Editing photos
After gathering photos and downloading it. It's time for some editing. And you don't need fancy design skills or softwares. You can just use Microsoft word or Pages on mac.
Open your pictures folder and a new blank document and start to drag and drop your pictures on the document. Since you are going to cut those pictures later don't worry if they are perfectly aligned in the document or not. Just put your pictures in categories so that you are able to have a general idea about the layout when you print them.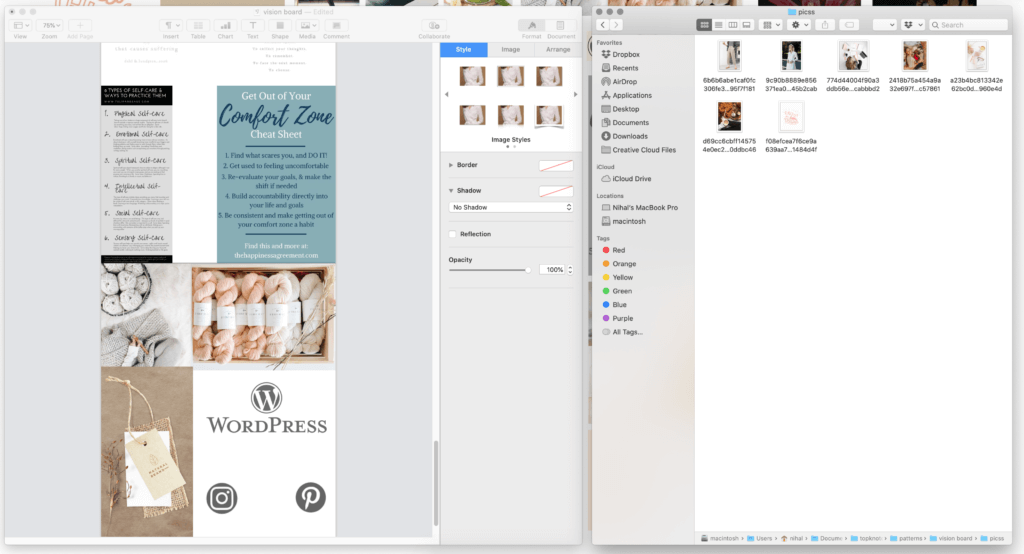 Now export your document as pdf for printing.
I printed mine on matt couche paper.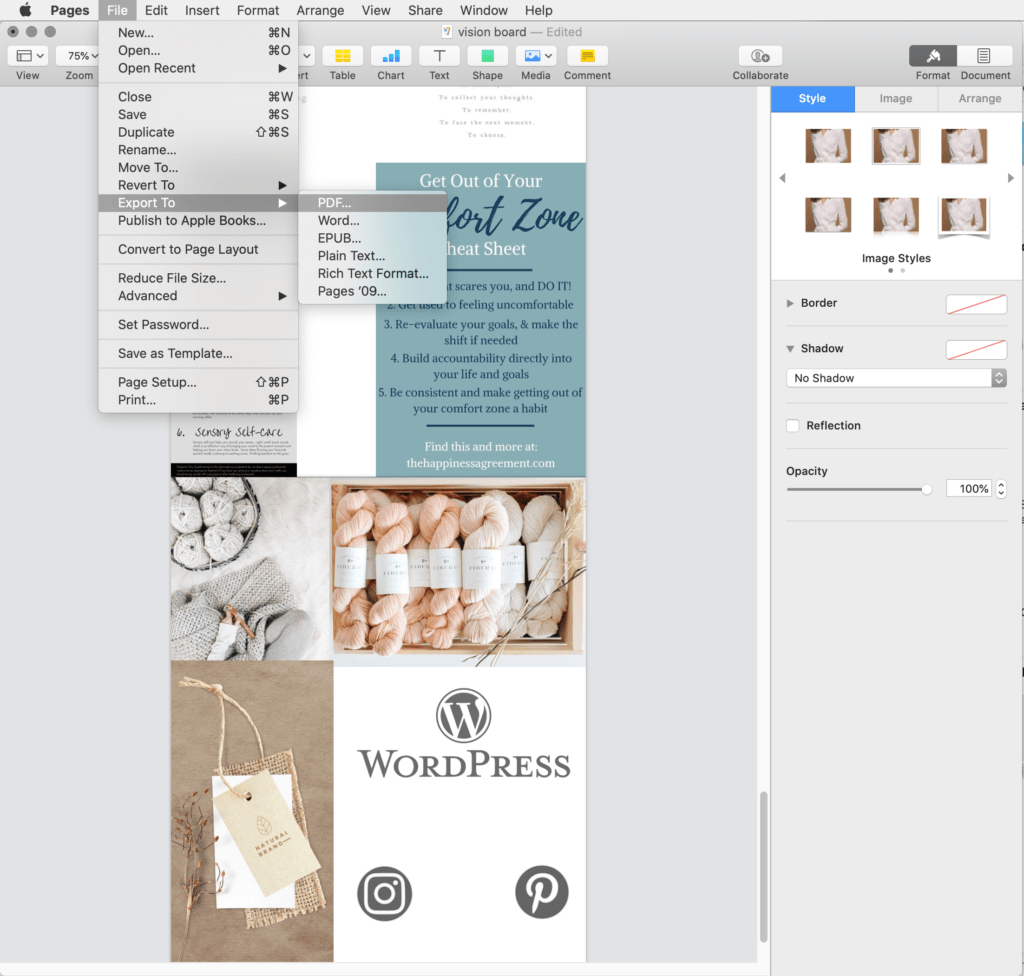 I also made this DIY Bulletin board. But you can use any ready one or even you can make use an empty wall or the back of your room door.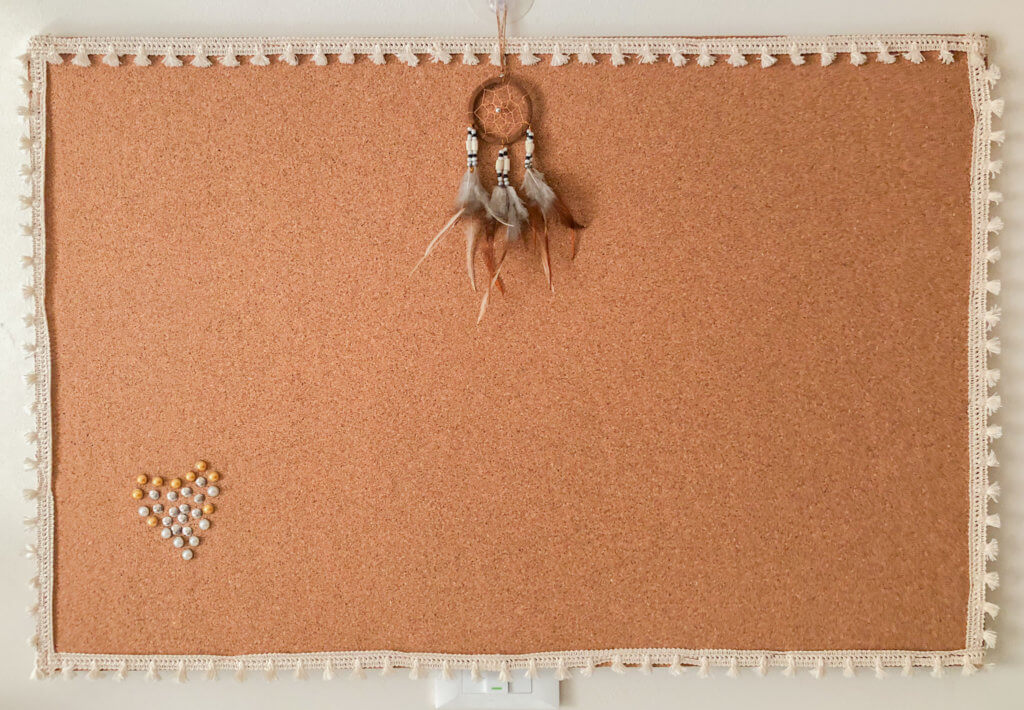 Materials you are going to need for this DIY bulletin board.
Roughly 3 meters 118 inches of lace trims of your choice. mine was from my local store. But I linked you very similar ones that I think would go great with the pattern. (keep in mind if you are making a bigger basket you well need more)
You may also need an adhesive Wall Hook
Now after printing your photos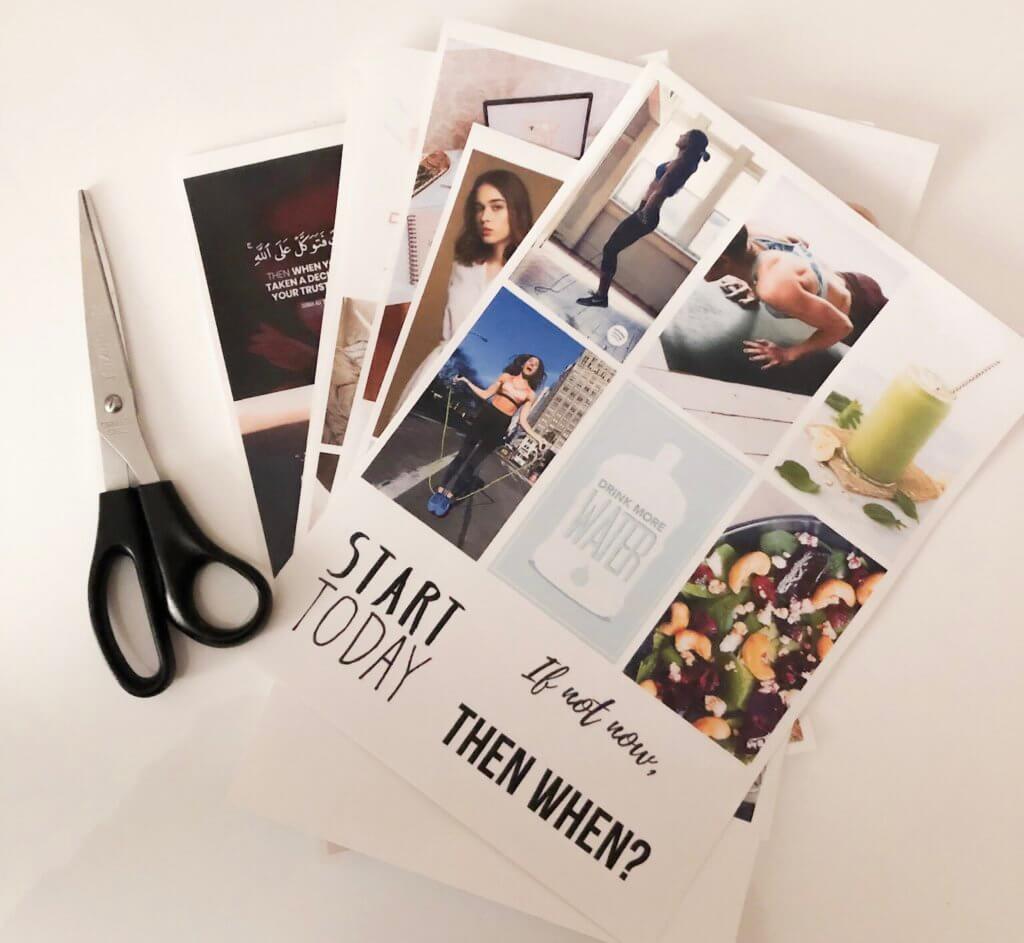 You are going to cut them, and start playing with different layouts till you feel satisfied with the arrangements and the overall look of your board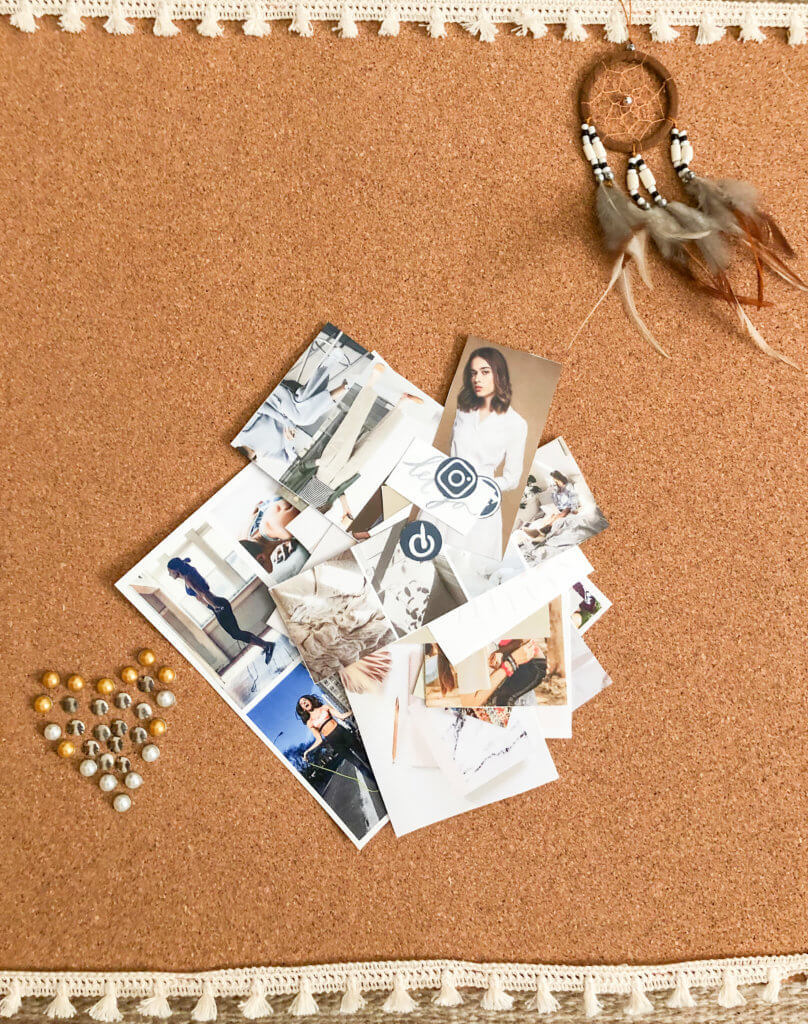 If you are not interested in printing it. You can use Canva and make a beautiful laptop desktop or mobile wall paper.
Or you can print it on a smaller scale and make it your planner and/or journal cover! you will just need a transparent planner like this one. I used an A5 size and I created this collage using Canva. (the size of the file was 16cmx24cm.) You can print it on A5 paper and if you have excess white cut it with a scissor.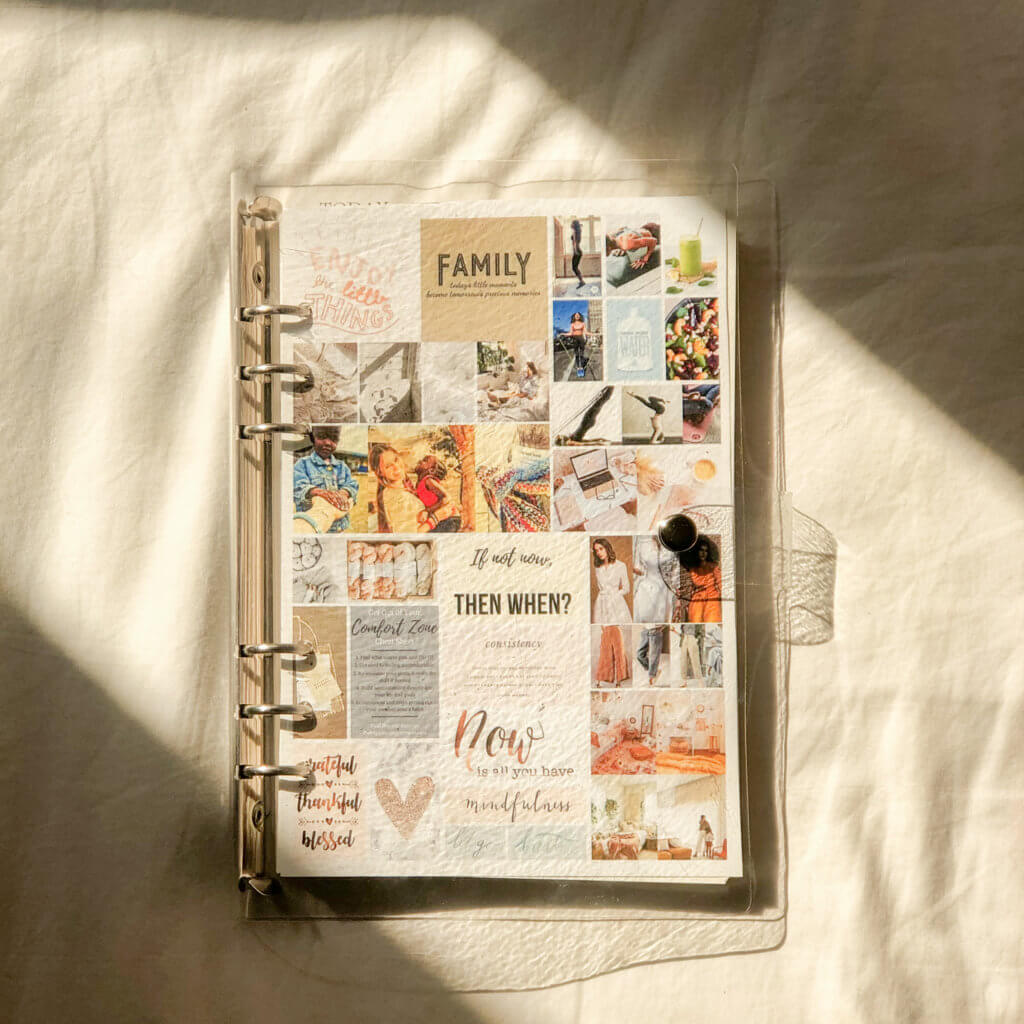 As I said if you are not a fan of printed vision boards. You can make a digital one as your mobile phone wallpaper.
I just created a new file on canva with those dimensions (1242 x 2208 pixels). I added a matching background color. Then I pasted the exact design I created earlier for the planner. But I left enough space at the top so that the date and time won't overlap with pictures. You can also apply filters on Canva to give the pictures a similar color tone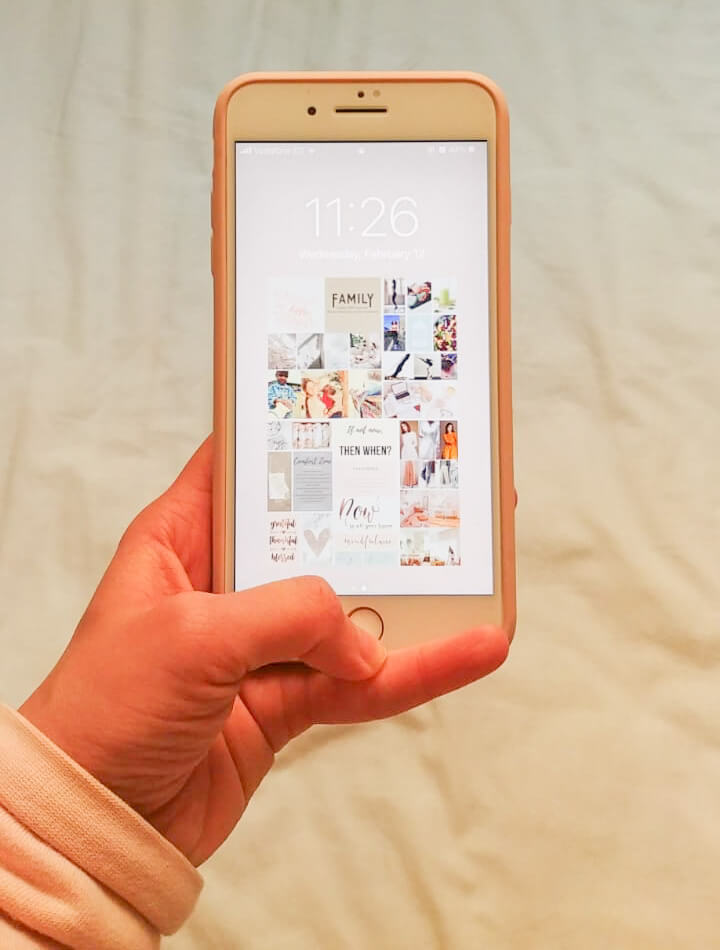 Finally you may created a desktop wall paper for your laptop.
For a mac book retina display I created a file with those dimensions (2880 x 1880.) And I played with the pictures' layout till I was satisfied with how it looks.
I hope you liked this tutorial. If you made one, share it with me on Instagram. I would love to see how you adapted it and what variations you made 🙂
Check the patterns and tutorials that I have already released in my room makeover.
Take care and happy crafting!